Venue
Sport of Kings // Gulfstream Park
901 S Federal Hwy, Hallandale Beach, FL 33009
Your favorite fete is coming back for Miami Carnival at a theatre near you!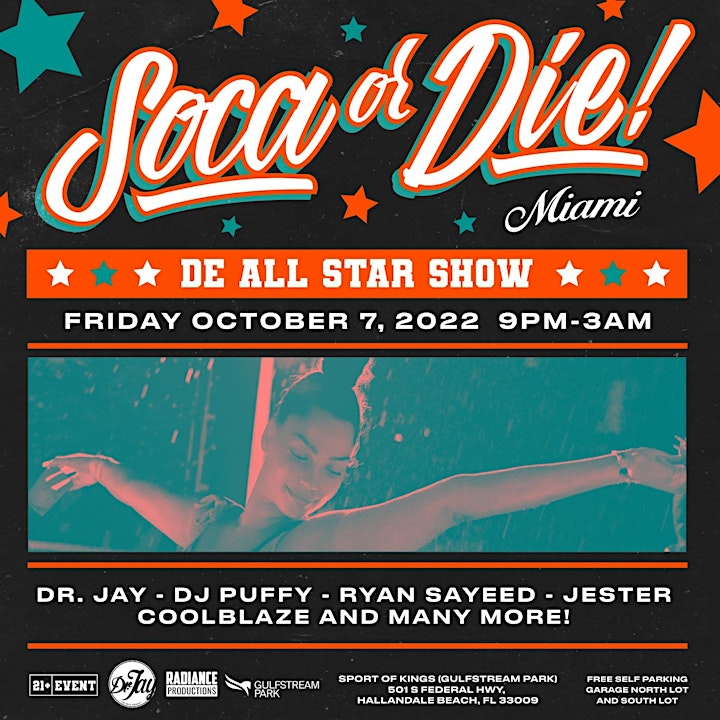 Get Ready for di All Star Show!
𝗦𝗢𝗖𝗔 𝗢𝗥 𝗗𝗜𝗘 : 𝗠𝗜𝗔𝗠𝗜 🌴
𝐃𝐄 𝐀𝐋𝐋 𝐒𝐓𝐀𝐑 𝐒𝐇𝐎𝐖 🤩
𝗦𝘁𝗮𝗿𝗿𝗶𝗻𝗴 🎭🎧
𝗗𝗿. 𝗝𝗮𝘆 𝗱𝗲 @socaprince
𝗗𝗝 𝗣𝘂𝗳𝗳𝘆 @deejaypuffy
𝗥𝘆𝗮𝗻 𝗦𝗮𝘆𝗲𝗲𝗱 @ryansayeed
𝗝𝗲𝘀𝘁𝗲𝗿 @thisisjester
𝗖𝗼𝗼𝗹𝗯𝗹𝗮𝘇𝗲 @llcoolblaze
& 𝗠𝗮𝗻𝘆 𝗠𝗼𝗿𝗲!
𝗧𝗵𝗲 𝗿𝗲𝗺𝗮𝗶𝗻𝗶𝗻𝗴 𝗰𝗮𝘀𝘁 𝘄𝗶𝗹𝗹 𝗯𝗲 𝗮𝗻𝗻𝗼𝘂𝗻𝗰𝗲𝗱 𝘂𝗽𝗼𝗻 𝗘𝗮𝗿𝗹𝘆 𝗕𝗶𝗿𝗱 𝘁𝗶𝗰𝗸𝗲𝘁𝘀 𝘀𝗲𝗹𝗹𝗶𝗻𝗴 𝗼𝘂𝘁! 𝗦𝘁𝗮𝘆 𝘁𝘂𝗻𝗲𝗱!
𝙏𝙝𝙞𝙨 𝙞𝙨 𝙜𝙤𝙞𝙣𝙜 𝙩𝙤 𝙗𝙚 𝙖 𝙈𝙊𝙑𝙄𝙀 ! 🎥
𝗠𝗶𝗮𝗺𝗶 𝗖𝗮𝗿𝗻𝗶𝘃𝗮𝗹 𝗙𝗿𝗶𝗱𝗮𝘆, 𝗢𝗰𝘁𝗼𝗯𝗲𝗿 𝟳𝘁𝗵 🗓
𝕃𝕠𝕔𝕒𝕥𝕚𝕠𝕟 : 𝗜𝗻𝘀𝗶𝗱𝗲 𝗦𝗽𝗼𝗿𝘁𝘀 𝗼𝗳 𝗞𝗶𝗻𝗴𝘀 – 𝗚𝘂𝗹𝗳𝘀𝘁𝗿𝗲𝗮𝗺 𝗣𝗮𝗿𝗸
🚨$𝟯𝟬 𝗘𝗮𝗿𝗹𝘆 𝗕𝗶𝗿𝗱 𝗧𝗶𝗰𝗸𝗲𝘁𝘀 𝗮𝗿𝗲 𝗮𝘃𝗮𝗶𝗹𝗮𝗯𝗹𝗲 𝗡𝗢𝗪!
𝗧𝗵𝗶𝘀 𝗶𝘀 𝘁𝗵𝗲 𝗠𝗢𝗦𝗧 𝘆𝗼𝘂'𝗹𝗹 𝗴𝗲𝘁 𝗼𝘂𝘁 𝗼𝗳 𝗮 $𝟯𝟬 𝘁𝗶𝗰𝗸𝗲𝘁 𝗼𝗻 𝗠𝗶𝗮𝗺𝗶 𝗖𝗮𝗿𝗻𝗶𝘃𝗮𝗹 𝗙𝗿𝗶𝗱𝗮𝘆 𝗡𝗶𝗴𝗵𝘁! 🎡
Limited Capacity
High Vaulted Ceilings
This venue holds a strict age policy of 21 & older, no exceptions.
We also have limited lounges available
FOR Table Package Inquiries WhatsApp: 754.400.0960
Follow @radiance.productions and @socaprince on all social media's to keep up to date with all information
All ticket sales are final; rain or shine no refunds or exchanges. You may contact us with any questions or concerns email us at hello@radianceprod.com or WhatsApp (754)-400-0960.