Venue
D'Junction Island Bar & Restaurant
2141 West Colonial Drive, Orlando, FL 32804
Essential Saturdays: That Caribbean party / vibe you need in your life!!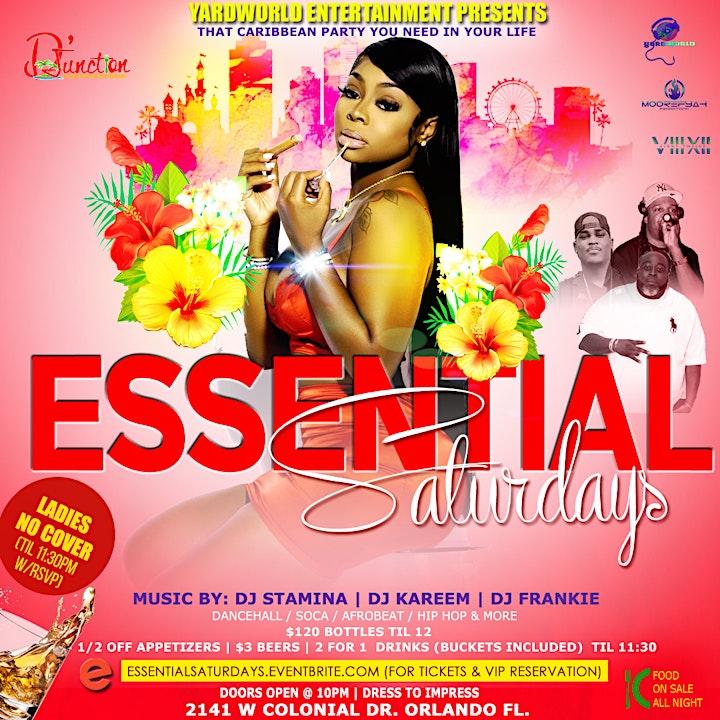 es·sen·tial – absolutely necessary; extremely important.
Essential Saturdays! The #1 Caribbean / Island party in Central Fl on a Saturday night
EACH & EVERY Saturday night, music by DJ Stamina, DJ Kareem, DJ Frankie & some weeks we have special guest DJs.
The best in Dancehall I Soca | Calypso | Reggae | Afrobeat | Kompa | Hip Hop and much more….Its a vibe that can't be beat or matched!
*Located less then 10 mins from Downtown Orlando
*Dress code Casual Stylish, Trendy / Fly
*Free Parking
*Fully stocked bar & Kitchen
*$120 Bottles til 12
*1/2 off appetizers | $3 beers | 2 for 1 DRINKS (buckets included) til 11:30
LADIES w/valid ticket IN FREE TIL 11:30PM Limited amount of "Early bird" tickets available each week (thats why they're called early birds 🙂 )
VIP SECTIONS available RSVP
Celebrating a Birthday? Free entry til 12am *Birthday must be within 10 days for free Entry* (excluding some special events)
*****DOORS OPEN AT 10PM COME OUT EARLY*****
#Orlandoparties #Downtown #CaribbeanParty #DJunction